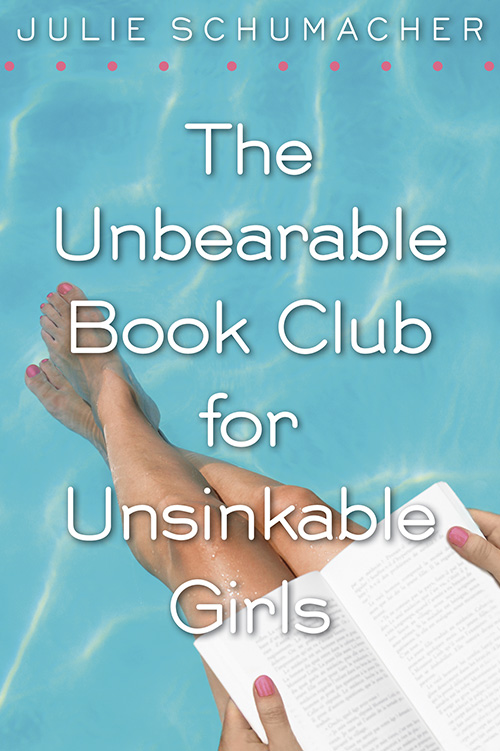 BUY THE BOOK
The Unbearable Book Club for Unsinkable Girls
My name is Adrienne Haus, and I'm a survivor of a mother-daughter book club. For three of the four of us daughters, membership wasn't voluntary. My mother signed me up because I was stuck in West New Hope all summer with my knee in a brace. CeeCee Christiansen's parents forced her to join, canceling her trip to Paris when they found out she'd bashed up their car. Jill was pressured by her mother, who thought she needed to socialize more. Wallis was the only one who actually wanted to be in the book club. No one knew why.
We were all going to be in AP English in eleventh grade. But we weren't friends. We were not a sisterhood, and we didn't share any traveling pants. We were literary prisoners, sweating and reading classics and hanging out by the pool. But of course that's not the whole story.
If you want to find out how book clubs can kill people, you can try searching the Web for mother-daughter literary catastrophe. Or you can read what I wrote for my summer AP English assignment.
Go ahead. Here it is.
PRAISE
---
"In a novel tailor-made for literature teachers, four unwilling high-school girls and their mothers join a summer book club with both comic and tragic results…. The characters, especially the four girls, sparkle."
— Kirkus, starred review
"Required summer reading never seemed so exciting before." 
— VOYA
"A natural for book-club discussion by reluctant and eager attendants alike."
— The Bulletin of the Center for Children's Books
A Bank Street College of Education "Best Book of the Year" 2013
A Teenreads.com/Teen Choice Book Award Nominee, 2013
---