Grass Angel
A PEN/USA Literary Award finalist
A Junior Library Guild selection
Chosen by the Washington Post as a "Post Kids Book of the Week."
Frances Cressen has the perfect summer planned. She's going to Camp Whitman with her best friend, Agnes. But Frances's mother has something else in mind for the family: Mountain Ash, a spiritual retreat in the middle of nowhere. Frances can't think of anything worse than Bible class and baby-sitting for eight long weeks—that is, until her mother drives away with her younger brother, Everett, and leaves Frances behind.
Now a stranger is renting Frances's house while she's stuck living out by the graveyard with her odd aunt Blue. And Camp Whitman is a disaster. The boys in Frances's group say that weird things are happening at Mountain Ash, and Frances begins to worry and to wonder. Everett doesn't sound like himself anymore, and her mother never talks about coming home. Are they happier without Frances?
"Honest, lyrical, and deeply felt, Grass Angel is the kind of book that you want to insist that others read. Really. You must read it. I insist."
-Kate Dicamillo, author of The Tale of Despereaux and Because of Winn-Dixie
"Schumacher's characters are carefully, lushly drawn…. Many readers will connect with this poignant yet occasionally lighthearted novel, which touches on many children's greatest fear: abandonment."
-Booklist
"Middle-school readers will identify with the way Frances lashes out or gets moody when she's troubled and with her love for her little brother. Girls will like the way Agnes stands by her friend Frances, even when other people disapprove of her. And all readers will love Blue, the kind of aunt even grown-ups wish they could turn to when they need comforting."
-St. Paul Pioneer Press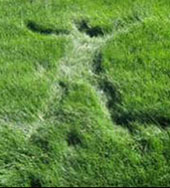 Photograph of grass angel submitted by a reader — thanks!