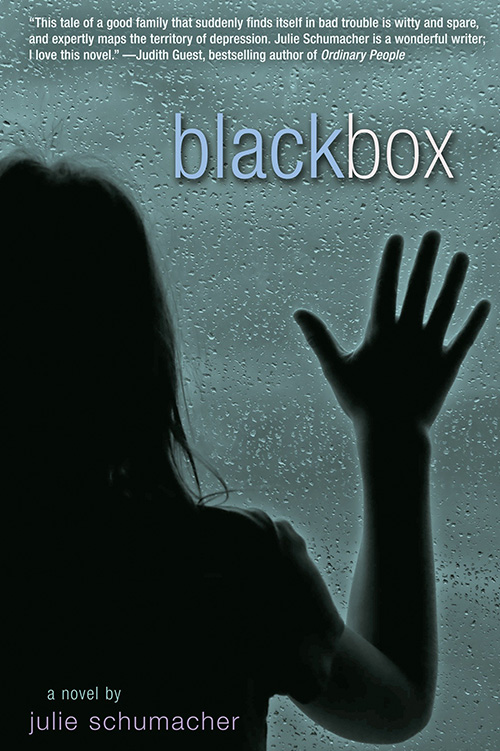 BUY THE BOOK
Black Box
Delacorte, Fall 2008 | Listening Library audiobook edition, 2009
Elena is quieter and steadier than her fun, unpredictable older sister, Dora. But they have always been close, and have always told each other everything. So when Dora is diagnosed with depression and has to be admitted to the hospital, nothing makes sense to Elena without her.
At school, the only people who acknowledge Elena are Dora's friends and Jimmy Zenk—who wears black every day of the week and seems to be getting through ninth grade on his own special schedule. At home, Elena's parents' new hobby seems to be arguing with each other after they think Elena has gone to bed, and it just gets worse once Dora is finally discharged. Now Elena will do anything to help her sister get better and get their lives back to normal—even when the responsibility becomes too much to bear.
In this gripping, moving novel about a family in crisis, Julie Schumacher thoughtfully explores how far we'll go to protect the ones we love.
PRAISE
---
"[Black Box] dramatically illustrates the way one family member's setback happens to the whole family, but they must all still find their own ways through it."
-Starred Review, The Bulletin of the Center for Children's Books
"Schumacher eloquently describes the devastating effect that depression can have on a family. The writing is spare, direct, and honest. Written in the first person, this is a readable, ultimately uplifting book about a difficult subject."
-School Library Journal (starred review)
"Black Box is a vivid, intimate portrait of the effect depression has on its immediate victim and on the people around her. Taut and compact, it is written with passionate clarity."
–Andrew Solomon, bestselling author of The Noonday Demon: An Atlas of Depression
Junior Library Guild selection
ALA Best Book for Young Adults 2009
ALA Quick Pick (for Reluctant Readers) 2009
Minnesota Book Award finalist
Texas TAYSHAS High School Reading list, 2010-2011
Tennessee Volunteer State Book Award nominee, 2010-2011
South Dakota Library Association Young Adult Reading Program nominee, 2010-2011
---