Writing
Novels
The Shakespeare Requirement
The slings and arrows of outrageous fortune keep hitting beleaguered English professor Jason Fitger right between the eyes in this hilarious and eagerly awaited sequel to the cult classic of anhedonic academe, the Thurber Prize-winning Dear Committee Members . Once more into the breach…
Dear Committee Members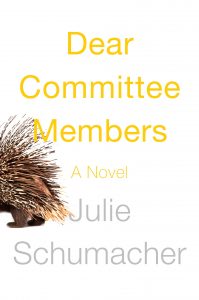 Jason Fitger is a beleaguered professor of creative writing and literature at Payne University, a small and not very distinguished liberal arts college in the midwest. His department is facing draconian cuts and squalid quarters, while one floor above them the Economics Department is getting lavishly remodeled offices. His once-promising writing career is in the doldrums, as is his romantic life, in part as the result of his unwise use of his private affairs for his novels. His star (he thinks) student can't catch a break with his brilliant (he thinks) work Accountant in a Bordello, based on Melville's Bartleby. In short, his life is a tale of woe, and the vehicle this droll and inventive novel uses to tell that tale is a series of hilarious letters of recommendation that Fitger is endlessly called upon by his students and colleagues to produce, each one of which is a small masterpiece of high dudgeon, low spirits, and passive-aggressive strategies.
The Unbearable Book Club for Unsinkable Girls
Delacorte 2012
What happened to Jane Haus from The Body Is Water? Meet her again sixteen years later, and meet her daughter, Adrienne Haus, in The Unbearable Book Club for Unsinkable Girls.
Black Box
Delacorte 2008
"An expert use of metaphor, combined with sympathetic insight into the impact of depression on families, turns a painful subject into a standout novel."
— Publishers Weekly (starred review)
"A readable, ultimately uplifting book about a difficult subject."
–School Library Journal (starred review)
The Books of One Hundred Truths
Delacorte 2006
I should probably mention something right now before this story goes any further: my name is Theodora Grumman, and I am a liar.
It's hard for Thea to write four truths a day in the notebook her mother gave her for the summer…
The Chain Letter
Delacorte 2005
Livvie isn't superstitious like her best friend, Joyce, who thinks everything is bad luck. So Livvie isn't worried about tearing up the chain letter and throwing it away until she's humiliated in gym class, falls down her back stairs, and gets invited to Thanksgiving dinner at Peter Finch's house…
Grass Angel
Delacorte 2004
"Anyone who has ever felt abandoned will relate to Frances Cressen, the 11-year-old heroine of Schumacher's introspective and funny first novel for young people…. Schumacher convincingly depicts the not-always-rational, up-and-down emotions of preadolescence with humor and compassion…."
-Publishers Weekly (starred review)
An Explanation for Chaos
Soho Press 1997
In this collection of stories, Julie Schumacher captures the intensely visceral dynamics of family, the inextricable bonds of siblings, and the dangers and mysteries of adolescence, all rendered with a pathos that is totally original.
"Unusually intelligent, confident, and moving… Tuning one moment into the frequency of Flannery O'Connor, another into that of J.D. Salinger."

–Kirkus Reviews
The Body is Water
Soho Press 1995
"Quirky… vividly original… marvelously poignant… painfully funny… a magnetically lyrical, bittersweet, and resonant tale… pure bliss from its lovely title to its ineffably moving denouement."
-Booklist
Essays
Turning 'Real Life' into Fiction: How to Do Justice to Grandma
-A View from the Loft, May 1991
Here's a sad story: You sign up for a writing class because something is burning a hole in your heart – some dear and closely guarded experience that has been haunting you for years. You need to transfer it to the page, to unburden yourself, to translate that lovely and bitter memory into prose. So you write the story of your grandmother's demise, the tale of the cruel next-door neighbor who seduced your dad, the disillusioning account of your first love. And you turn it in. The following week you get it back from your teacher and fellow students with tactful comments: "Try to think of something more original at the end." "Could you cut the father?" "This part is corny. It doesn't seem real."
In Defense of the MFA
Imagine the worst: having finished your MFA, you continue to revise your manuscript, slipping pieces of it like slivers of your heart into the mail for publication, and in the meantime you land a job as a technical writer. Your cube-mate reveals himself to be a poet, posting snippets of Akhmatova by the coffee urn….
Fibbers, Nappers, Hens:
Grammar and Grading in the Creative Writing Workshop
I find time at the very beginning of the semester to hand out a chart to clarify any confusion between lie and lay. The students look surprised when they see it. This is a Creative Writing class, not an "English" class….