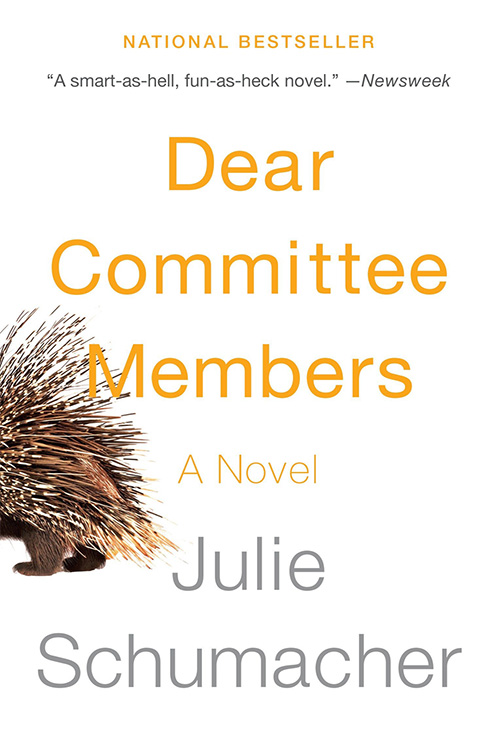 BUY THE BOOK
Dear Committee Members
Jason Fitger is a beleaguered professor of creative writing and literature at Payne University, a small and not very distinguished liberal arts college in the midwest. His department is facing draconian cuts and squalid quarters, while one floor above them the Economics Department is getting lavishly remodeled offices. His once-promising writing career is in the doldrums, as is his romantic life, in part as the result of his unwise use of his private affairs for his novels. His star (he thinks) student can't catch a break with his brilliant (he thinks) work Accountant in a Bordello, based on Melville's Bartleby. In short, his life is a tale of woe, and the vehicle this droll and inventive novel uses to tell that tale is a series of hilarious letters of recommendation that Fitger is endlessly called upon by his students and colleagues to produce, each one of which is a small masterpiece of high dudgeon, low spirits, and passive-aggressive strategies.
PRAISE
---
"Let's not look at this as an epistolary novel about the academic world, but as a laying out of the Tarot cards of our society's past and future. It's that indicative. That important. This is a funny, very sad, disarming novel. My pitch to Hollywood would be: David Markson's "Wittgenstein's Mistress" meets Padgett Powell's "The Interrogative Mood" but – and here I'm just another expendable would-be savior, like Ms. Schumacher's character Jay – nobody would know what I was talking about. My hat's off to the author of this flawlessly written, highwire act of a book. Hollywood be damned."
— Ann Beattie
"Truth is stranger than fiction in this acid satire of the academic doldrums."
— Kirkus
"Dear Committee Members is a brilliant book that, in my head, sits comfortably on my prized shelf of academic novels, right between Lucky Jim and Pictures from an Institution. But it's funnier than either, and more wrenching in the end. The conceit of a novel told in letters of reference is inspired, and it is killingly funny because it's all so killingly true. Truth walks here in the strangest of costumes, and in part because of its guises, we can face it, frown, laugh, cry. I've never lost an afternoon so happily."
— Jay Parini, author of The Last Station and The Passages of H.M.
"Julie Schumacher has perfectly rendered a portrait of the artist not as a young man but as the beleaguered tenured has-been surly lovable anachronistic man he's become. At once satire and tribute, the book alludes to a time in America's past both in literature and academia, and the passage of that heady heyday is hilariously—and bittersweetly—displayed in this genius borrowed form. Never have letters of recommendation made me happier."
— Antonya Nelson, author of Funny Once: Stories and Bound
---